At the end of last month, Simple Flying was invited by Iberia to Madrid to tour the updated cabin of the world's first Airbus A350 Next aircraft. I flew from Brazil to Spain on an Iberia Airbus A330-300 in business class from Aeroporto Internacional de Guarulhos in São Paulo to Adolfo Suárez his Madrid his Barajas Airport.
Arrival and check-in
IB6824 departs daily at 15:40 local time. As a business class passenger, I had access to the LATAM Airlines lounge in Terminal 3 of the GRU, so I arrived at the airport at 12:45 to enjoy the lounge and capture content for the full lounge review. Iberia has a check-in line for business class only, and when I arrive, there is one passenger in front of me. I was checked in within 4 minutes, my bag was tagged and my boarding pass was in hand. My bag was considered a non-standard bag (sports duffel bag) and had to be sent to another area to be placed on board. By 12:51, the luggage inspection was over, and I headed for the security check and immigration procedures.
Security and passport management
Photography and videography are not permitted in airport security and passport control areas, so there is no content for that part. It took me 14 minutes to complete both steps. It was shorter than average, but not the fastest time I've experienced on the GRU. Security rules for international flights departing from Brazil are standard, but for those living in the US he stands out for one thing. Brazilian airports do not yet have body scanning technology, only metal detectors. After inspecting carry-on baggage with his x-ray and passing through metal detectors, all passengers go through passenger control before going to the boarding gate area. The GRU has two lines, one for Brazilians (I have dual citizenship so I'll pass) and one for foreigners.
LATAM Lounge
Most GRU Terminal 3 lounges are located on the upper floors of the terminal, accessible by escalator immediately after passport control. 1 minute walk to the lounge entrance. The lounge staff were friendly and reminded passengers that masks are required in his area of ​​the lounge due to an order from his ANVISA, the Brazilian health authority, which came into force on 25 November. The lounge was large, modern and offered multiple eating and drinking options. We spent about an hour and 40 minutes in the lounge before rushing to the gate to catch our flight.
Stay tuned for our full lounge review.
boarding and departure
I left the lounge 35 minutes before takeoff, just before the final boarding call. Departure was from his Gate 332 at the end of the terminal. At the gate, business class passengers were again allowed through a dedicated line.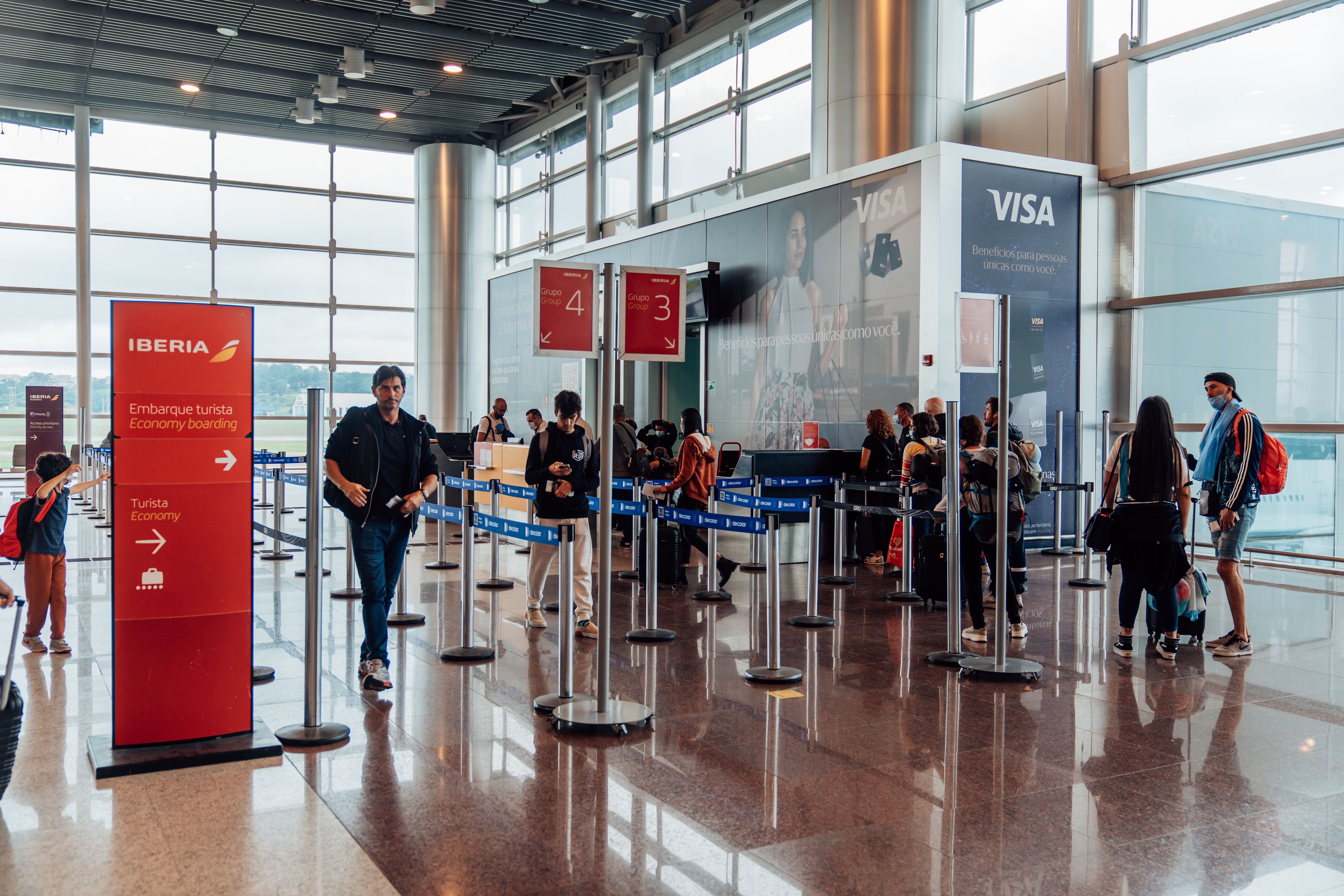 Photo: Lucas Sousa | Simple Flying
I boarded after 15:00 and sat in the 1C seat by the window on the left side of the plane.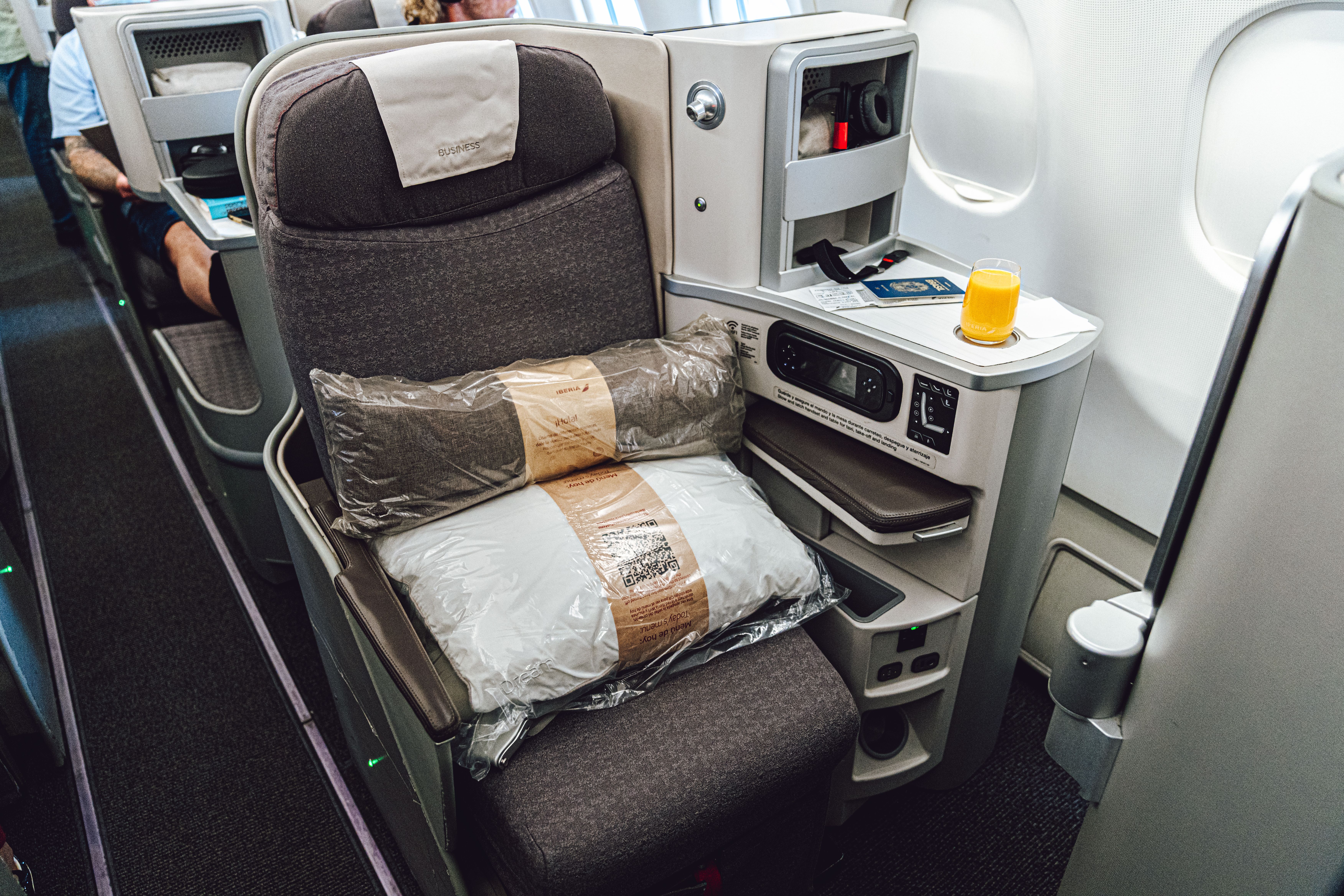 Photo: Lucas Sousa | Simple Flying
At first glance, Iberia's business class cabin looks nice, but the lack of privacy is evident. Business class seats on most airlines don't have doors for privacy, but Iberia didn't. Despite this, the seats were comfortable and had everything we needed. Before departure, the flight attendant offered drinks to all passengers in his cabin of business class. Choice was champagne, orange juice and water.
At 15:42, the aircraft left the gate and at 15:55 was cleared to take off on the runway.
seat
The seats had everything you would expect from business class. The sheets had pillows, blankets and mattress pads. There was a small storage area to the left of the seat that held headphones and an amenity kit. The seat controls and in-flight entertainment screen controls were also on the left panel, along with an armrest that could be lowered for a flat position. There was a small space at the foot where shoes could be placed. Seats had universal power outlets and USB power.
in-flight
In-flight Wi-Fi was available for the same price as other airlines I've used internationally. Business class passengers had free messaging for the entire flight and streaming costs €6 for 1 hour, €13.49 for 4 hours and €22.49 for the entire flight. I opted for the free messaging package and only used it for a few hours before bed as my arrival was scheduled for 6am?? in Madrid.
Food service began shortly after takeoff with hot towels, followed by drinks and the entire meal including a plate of vegetables as an appetizer. I chose the fish option with potatoes and a wonderful sauce, but I enjoyed my entree. The dessert after the meal was passion fruit ice cream, which was also delicious.
Due to my arrival time and the 4 hour time difference between São Paulo and Madrid, after the meal service I was ready for bed. I don't know if the flight attendants prepare a 'bed' with mattress pads, blankets and pillows. Because I did it myself without bothering to ask. After falling asleep, I only woke up for the second meal service, breakfast, about an hour and a half before landing.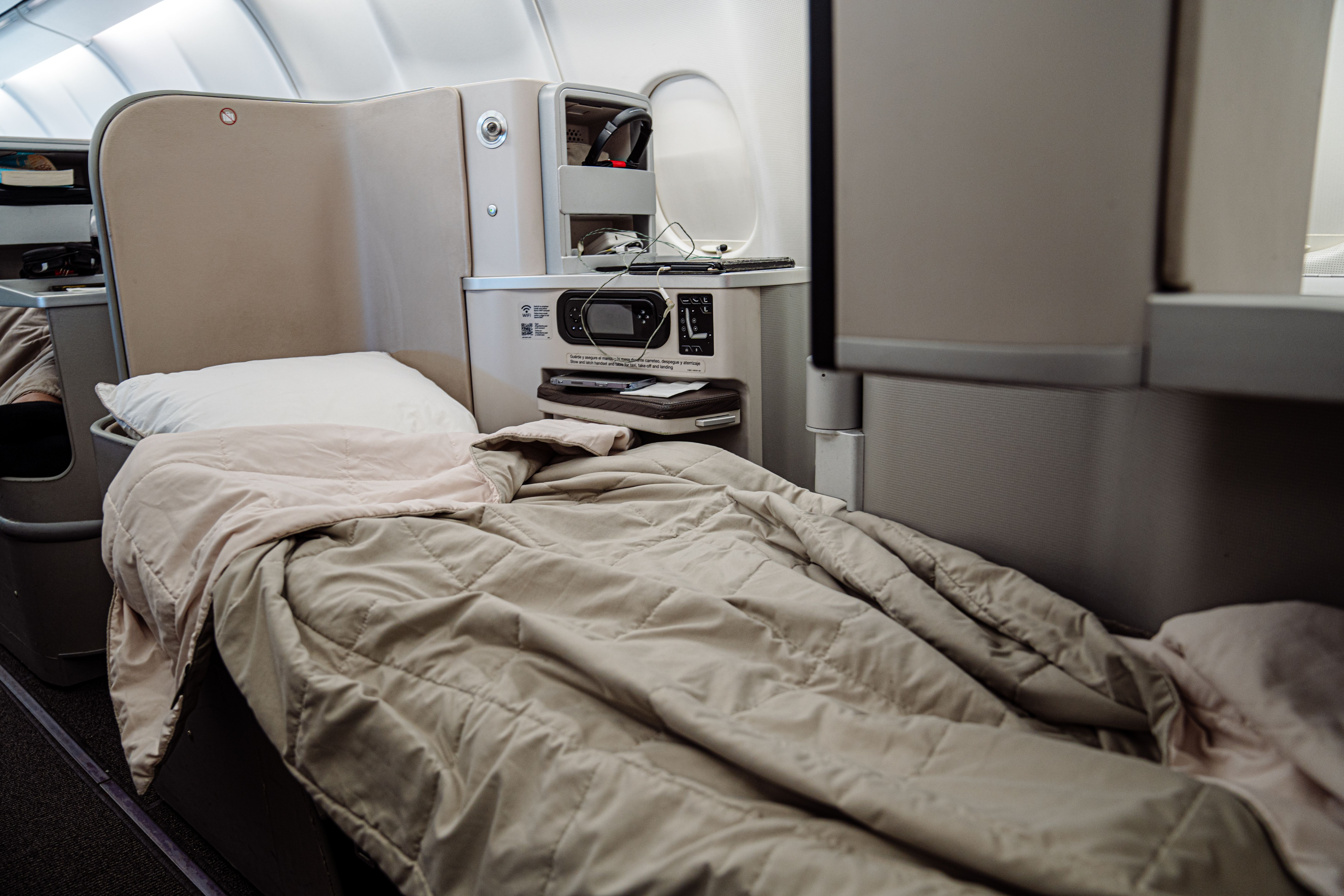 Photo: Lucas Sousa | Simple Flying
I tortilla Omelette with potatoes, spinach sauce for breakfast. The meal also came with a croissant and a selection of bread and a drink.
overall impression
This was my first flight with Iberia and from check-in to the flight attendants the staff were excellent and provided excellent customer service. Before my flight, my friend warned me that I didn't enjoy Iberia's service, but I did enjoy their meal service. The seats were comfortable and spacious, just lacking privacy. Unfortunately, none of the crew spoke Portuguese, and none of the announcements on board were made in Portuguese, the native language of the country of departure. Nevertheless, I would recommend Iberia to anyone considering flying to Spain and considering using this airline again.
Iberia

IATA/ICAO code:

IB/IBE

Airline type:

full service carrier

Hub:

Madrid Barajas airport

Founded year:

1927

Alliance:

one world

Airline Group:

IAG

CEO:

Javier Sanchez-Prieto

Country:

Spain